Romance is in the air and today calls for something special. Wether you have a significant other today or not, the SoMe team has decided today is Treat-yo'self day. So buckle up and prepare yourself for the first instalment of the "Magical Makeup" series, bringing to you a very love themed start *winks*.
- From :
---
*smack smack*
Valentine`s Day is here and I thought it would be the perfect kick off to our new segment called "Magical Makeup"! If you are a makeup junkie, just like me, I´m sure you`ll like this little series.
Today I wanted to share this beautiful lip-gloss with the name "Amortentia". Hmm, coincident it has the same name as the famous love potion?
Absolutely not! You will fall in love with the beautiful pinky colour with a dash of sparkle and your significant other won`t be able to keep his or hers eyes off you!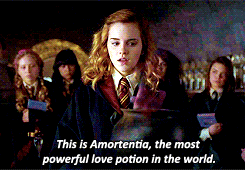 *Sniff sniff* is it love in the air I smell? Nope, just the lovable smell of Pomegranate and alluring rose.
If this isn`t enough to make you say, "Wow" here`s a little bonus it`s 100% vegan and cruelty-free+ it`s hand made, I know. WOW!
If you like the product check out Shirocosmetics at   
https://shirocosmetics.com/products/amortentia/
Hugs and kisses