Welcome to a late Travel Tuesday AKA Wednesday! Sorry for the delay of this my dears. This week, we get an exclusive tour of the Water Bros Studios with one of our lovely SoMes, Sunny Gem! Buckle up and prepare to take an insider tour to a very magical muggle place!
- From :
Dearest wizards and witches,
I was lucky enough to visit the famous "Warner Bros Studios" in London and witness the magic behind the films we all hold so dearly in our heart. A little warning, this review could ruin some of the magic behind film!
You will look at this gif very differently later in the article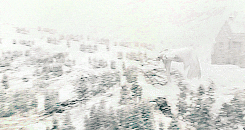 In 2000 the filming of the Harry potter series started at the studio in Leavesden. 10 years and eight movies later the cast and crew packed up, leaving us all with the question; what will happen with the studio now? Warner Bros had already thought of that and two years later, in 2012 they opened it for the public. They called it "Warner Bros. Studios Tour London - The Making of Harry Potter" Wow, that's a mouthful! Since the opening they`ve had plenty of expansions making the experience more and more magical!
The bus to the studio left from Victoria Coach Station at nine in the morning and took around 45 minutes. When I sat in the bus I felt more excited than the rest of the children there combined. After a bumpy ride I finally got there, and started the tour. Hmm, I wished it were the night bus that drove us, would have taken less time, maybe next time…
One of the interactive experiences you can do at the studio is broom riding. Seeing my dad riding a broom with a cloak has to be one of the highlights on the trip. No, Life! It was definitely one of the highlights in my life, it was truly hilarious! Luckily you can buy the little video snip, so I can see it over and over again! 
The one thing that amazed me the most was the details and work put in to every single item made for the movie. They said that each wand box was painted by hand and there were over 2000 of them! *Gasp* When I looked at the fireplaces I saw that on both sides of them had small symbols painted on them or pictures and that is details barely anyone will notice in the film. That's just magical!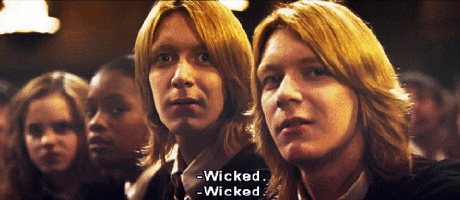 Another secret that was reviled for me was that all the scenes that Hogwarts were filmed, from the outside. Where filmed at a miniature castle. I know, what? There goes my dreams of visiting the school we all love. The first GIF in this article is an example of that kind of movie magic. They actually showed that exact scene! I told you I would ruin some of the magic!

Throughout the tour there is multiple chances to buy stuff. But at the very end you came in to heaven of Harry Potter merchandise. They have everything from tattoo sheets, books, wands, brooms, different clothing items, house related items, sweets and art. So plenty of stuff to use all your money on!
When going to Warner Bros Studios one thing you should remember is, that it`s not an amusement park, more of a museum, with some interactive experiences! It is of course like stepping in to J.K Rowling`s wizarding world and you will be amazed plenty of times, but it`s mostly watching different set ups and reading/listening on how it came to live.
If you have the chance of going to Warner Bros Studio, I would highly recommend it! It`s truly amazing to see your favourite books/movies come to live right in front of your own eyes. And the idea that I have actually been on the exact same spot as the cast, is so much fun to think of! *giggles*
That's all for this week`s "Travel Tuesday" stay tuned for what we will come up with in the future!
Hugs and kisses,
Sunny xx