Who really are these people that we associate with our friends, coworkers, and classmates? That will be the main focus of the new blog series:
- From :
It is a well-known fact that most of us here at WoP use famous people to represent what our characters look like, aptly named Face Claim, FC for short. But, who really are these people that we associate with our friends, coworkers, and classmates? That will be the main focus of the new blog series:
Article by


It is I, Hadrian E. Montague, and this is the first installment of Unveiling the FaceClaim. Today we have someone you've probably seen around chat, cracking jokes and talking about Diablo III. She is one of the lovely sneks and a valuable asset of the BackStory Team. Why, it is none other than the wonderful Felicia Wolf!

Her FC is the rising young star Billie Eilish. She is best known for her beautiful voice, her blunt attitude, and her unique sense of style.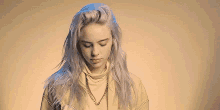 Billie Eilish was raised in LA with her brother Finneas. At only 11, Billie started writing and singing songs on her own, while Finneas was already in the music industry with his own band. In 2016, Billie Eilish was introduced to the world with her debut single "Ocean Eyes", a song that makes me want to crawl in a ball and bawl.
After that, she blew up, with her Twitter now sporting over 15 million followers. In March 29th, she released her first studio album "When We All Fall Asleep, Where Do We Go?"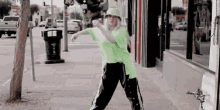 Billie Eilish has already made a name for herself as not just another face amongst the popularity crowd. Her unique baggy clothes attributes to her not wanting to promote a provocative image, but instead be known for her admittedly amazing personality. A blunt but truthful person, Billie's most well-known phrase would be "I don't like smiling, it makes me feel weak and small", which is dope in my humble opinion, and it is probably the reason why she's notorkious for her lack of smiles in pictures, instead showing off her, and I quote, "resting b*tch face"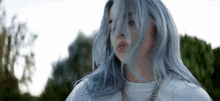 I'm sure by now we've all figured out why one would love Billie Eilish. But the one who truly brought her to the limelight is the lovely Ms. Wolf, and she has kindly answered a few questions.
1. Why do you like Billie, as a person?
I respect the amount of talent she has, and how far she's come at such a young age. Even though she's a teenager, and I'm not, I can still relate to her lyrics and I like that about her. She also seems to know how to make fun of herself, which makes me like her even more. Her love for animals is a huge plus, that is always one of my favorite traits in a person.
2. Favourite song by Billie and why?
She released an album a few days ago, so my favorite actually changed recently. I adored "Lovely" the most before, because of how brilliant the lyrics are, but "My Strange Addiction" from the new album kind of dethroned it, because a) it features one of my all time favorite TV shows, The Office, and b) It's simply an awesome song.
3. Did you model Felicia after Billie or did you have your character in mind and Billie just fit?
Fel was a long time coming, she took different aspects from many of my characters I wrote since 2007. Finding Billie was huge stroke of luck, 'cause she happened to fit just SO DAMN WELL. Everything feels right, except the way Billie dresses :'D Her style is unfortunately freaking different from Felicia's, and I am losing many opportunities because of that, giving up otherwise wonderful gifs where she's wearing ridiculous outfits and such. :'D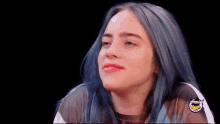 And thus concludes today's edition of Unveiling the FaceClaim, join us next time for more, and if you want to be featured/have someone in mind who you think needs more digging into, my owl is always open.

Thank you for paying attention, and have a fantastical day.