Nearly everybody needs to have at least one owl! At Eeylops Owl Emporium, you can buy nearly every owl you can think of! Not only is an owl perfect for sending letters to relatives who live across the country, it's also a great companion.
Some of our favourite users owning an owl: Eirin Myren, Molly Mills, Ayden Wallace, Henrietta Nagy, Holly Gillywood.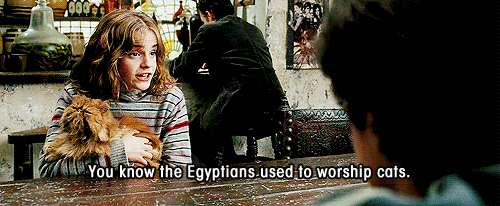 One animal that appears to be a favourite at Hogwarts, is the cat! Walking around the hallways, I saw a lot of students, and even some teachers, walking around with their very own cat-pet! Whether you like them lazy and grumpy, or attached and active, there appears to be a cat for nearly everybody! What the connection is between a human and cat bond, is yet to be discovered.
Some of our favourite users owning a cat: Emelie Olsen, Saffie Leabrook, Jiya Sharma, Gabi Ruiz, Blaze Drake.
And last, but definitely not least,
probably my personal favourite
; the pygmy puffs! Pygmy Puffs seem to have taken over Hogwarts, as everybody seems to have one, or at least want one! They're pink or purple furr balls you just can't say no to! These small creatures are incredibly attached and need to be taken care of really well, but seeing their hapiness makes it all worth it!
Some of our favourite users owning a pygmy puff: Atlas Cresswell, Phyllis Triton, Yaelle Diggory, Orlia Bengis, Hayley Soulton
Crossing all these people in the hallways, on the fields, with my own pygmy puff in my hand, playing around, letting him feel the grass, makes me a very happy person! There are obviously many more amazing, lovely people who own pets, or other pets as lovely as the ones mentioned above, but having to name everybody, that would be something I wouldn't be able to finish by the time I'm 65
WHICH IS LONG
.
Please comment below which pet(s) you own, and most importantly, what they're called
mine's called Mr. Puggles
.
Many furry greetings,
Lara Mountainheart and the SoMe-Team! ♥